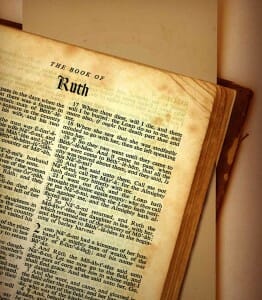 The Book of Ruth opens with the report of a famine in the land of Israel. Because of the famine, Elimelech from Bethlehem-Judah decides to pick up his household and move to the country of Moab. His family includes his wife Naomi and their two sons Mahlon and Chilion.
The country of Moab is named after the son of Lot who was born out of an incestuous relationship between Lot and his daughter. The history of the relationship between Moab and Israel can be characterized as tempestuous at best. It was no easy thing for Elimelech to move his family, but times were desperate.
After moving to Moab, Elimelech died leaving Naomi a widow. Their two sons, Mahlon and Chilion, married Moabite women named Orpah and Ruth. After 10 years, both of these men died as well, leaving these two widows with their mother-in-law Naomi. Naomi decides to return to her home in Judah.
The people of this period observed what is known as the levirate law which literally means 'husband's brother.' When a married man died without a child his brother was expected to marry his wife. Children of the marriage counted as children of the first husband. This custom is found among other peoples besides the Hebrews.
And Judah said unto Onan, Go in unto thy brother's wife, and marry her, and raise up seed to thy brother.—Genesis 38:8, (AV)
If brethren dwell together, and one of them die, and have no child, the wife of the dead shall not marry without unto a stranger: her husband's brother shall go in unto her, and take her to him to wife, and perform the duty of an husband's brother unto her. And it shall be, that the firstborn which she beareth shall succeed in the name of his brother which is dead, that his name be not put out of Israel. And if the man like not to take his brother's wife, then let his brother's wife go up to the gate unto the elders, and say, My husband's brother refuseth to raise up unto his brother a name in Israel, he will not perform the duty of my husband's brother. Then the elders of his city shall call him, and speak unto him: and if he stand to it, and say, I like not to take her; Then shall his brother's wife come unto him in the presence of the elders, and loose his shoe from off his foot, and spit in his face, and shall answer and say, So shall it be done unto that man that will not build up his brother's house. And his name shall be called in Israel, The house of him that hath his shoe loosed.—Deuteronomy 25:5–10, (AV)
Out of a sense of obligation to the law, Orpah and Ruth travel with Naomi to Judah, but only for a while. Along the way, Naomi gives her realistic assessment of the situation to the women and encourages them to return to their own home lands. Naomi is old and beyond her child bearing years. She's not going to have any more sons, and even if it were possible, it would take years before they were old enough to marry either of these women. Orpah and Ruth are both young. They have a lot of years before them where they can raise a family. Naomi tells them that they'd be better off if they return to their own homes and find new husbands. She releases them both from their obligation to her and the law.
Orpah takes Naomi up on the offer. They kiss and say goodbye. Ruth on the other hand, provides one of the most loving thoughts you can find anywhere in the Bible. Ruth 1:16 says:
And Ruth said, Intreat me not to leave thee, or to return from following after thee: for whither thou goest, I will go; and where thou lodgest, I will lodge: thy people shall be my people, and thy God my God:
No longer obligated under the letter of the law, Ruth voluntarily accompanies Naomi to Judah in the spirit of the law and out of a deep sense of love and commitment to her.
After the loss of her husband, sons, and home, Naomi becomes bitter. When she arrives in Judah she says to her people in 1:20,
And she said unto them, Call me not Naomi, call me Mara: for the Almighty hath dealt very bitterly with me.—Ruth 1:20, (AV)
The name "Naomi" means "My Delight." Naomi was no longer delightful. She had been through devastating circumstances and returned home bitter. The name Mara literally means "bitter."