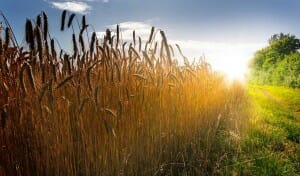 When Naomi and Ruth returned to Bethlehemjudah, they were literally two of the poorest people in the area. They depended on charitable gifts of food to survive. But these weren't just handouts, they had to work for them. The idea of allowing the poor to work to receive food as charity is written into the Mosaic Law:
And when ye reap the harvest of your land, thou shalt not wholly reap the corners of thy field, neither shalt thou gather the gleanings of thy harvest. And thou shalt not glean thy vineyard, neither shalt thou gather every grape of thy vineyard; thou shalt leave them for the poor and stranger: I am the LORD your God.—Leviticus 19:9–10
In this context the word glean means, to gather grain or other material that is left after the main crop has been gathered. Harvest time is a time of rejoicing amongst the Israelites. During the harvest, rich landowners shared their crops with the poor, orphans, and strangers. Landlords harvested the central portion of their fields and left the outer edges and corners to be gleaned by the poor. This custom derives from Leviticus 19:9–10. This is also how Ruth and Naomi survived. Ruth gleaned the fields of a rich man named Boaz who just happened to be a relative, or kinsman, of Naomi's late husband Elimelech.
We've already talked about the "husband's brother" or levirate law in part 1. In practice, this law extends much further than just a husband's brother, it also includes the nearest of kin to the deceased. Ruth Chapter 3 begins with Naomi initiating the idea that Boaz should fulfill the levirate law with Ruth.
Then Naomi her mother in law said unto her, My daughter, shall I not seek rest for thee, that it may be well with thee? And now is not Boaz of our kindred, with whose maidens thou wast? Behold, he winnoweth barley to night in the threshingfloor. Wash thyself therefore, and anoint thee, and put thy raiment upon thee, and get thee down to the floor: but make not thyself known unto the man, until he shall have done eating and drinking. And it shall be, when he lieth down, that thou shalt mark the place where he shall lie, and thou shalt go in, and uncover his feet, and lay thee down; and he will tell thee what thou shalt do. And she said unto her, All that thou sayest unto me I will do.—Ruth 3:1–5
It's important to note that Naomi is absolutely not telling Ruth to do anything unseemly as some may suggest. We need to understand the customs of the day to fully grasp the solemnity of these actions. As the story continues, we see that Ruth obeys Naomi's instructions:
And she went down unto the floor, and did according to all that her mother in law bade her. And when Boaz had eaten and drunk, and his heart was merry, he went to lie down at the end of the heap of corn: and she came softly, and uncovered his feet, and laid her down.—Ruth 3:6–7
Many commentators infer that the phrase his heart was merry in verse 7 means that Boaz was drunk. This is not true at all. The Hebrew word rendered was merry, literally means was good. After an exhaustively hard day at work, doesn't it feel good to you to come home, eat a nice meal, and retire for the evening? Boaz is no different. After the labors of his day, Boaz relished his simple meal. It was good to him and he supped to his heart's content, enjoying the bounties of a gracious God with a grateful spirit. After he had eaten his full, he went to bed.
And it came to pass at midnight, that the man was afraid, and turned himself: and, behold, a woman lay at his feet. And he said, Who art thou? And she answered, I am Ruth thine handmaid: spread therefore thy skirt over thine handmaid; for thou art a near kinsman.—Ruth 3:8–9
Ruth observed Naomi's orders, went and laid herself down, not by his side, but across his bed's feet, fully clothed. She kept awake, waiting for an opportunity to tell her errand. When he awakened in the night, and perceived there was somebody at his feet, he asked who it was. She told him her name and then her errand, that she came to put herself under his protection,
Ruth's modesty led her to account for her position by a reference to the law of kinship. She had rights, and she stood upon them. She knew that Boaz had correlative duties to discharge; but we may be sure that she would have never made the least reference to her rights, or to the correlative duties, had she not known that his heart was already hers.