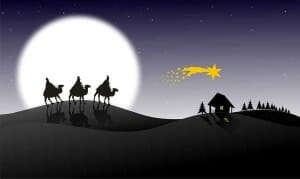 This has certainly been a challenging year. And wow! Has it flown by fast. Laid off a little over a year ago, it's difficult to know what God's will is concerning His direction for our life. The one thing we do know is that whatever God's will is, we want to be right in the center of it and not shift an iota to either the left or right. This is the only way to assure His blessings and continued success.
This year He gave me a book to write which is now on the marketplace. I'm still seeking my next full-time role, if that's His will. We've gotten very involved in outreach ministry where I get to present the Gospel regularly. And this past Sunday night, Susie and I had the chance to narrate our church's Christmas Cantata. What a privilege and joy it is to share God's Word with 300 or more people!
But Christmas isn't about us and what we've done. Christmas is about Jesus Christ and what He's done for us. He's given the greatest gift any human being can ever accept as their own. The gift is called salvation. He bought it for us on the cross of Calvary about 2000 years ago.
Salvation truly is a gift. There's nothing we can ever do to earn it or merit it. All of our good works are as filthy rags before the Lord the prophet Isaiah tells us. If we need to depend on our good works to get into Heaven, then how many good works are enough?
We only need to depend upon Jesus Christ. "For by grace are ye saved through faith; and that not of yourselves: it is the gift of God: Not of works, lest any man should boast."—Ephesians 2:8–9, (KJV)
Jesus did it all for us when He died on the cross. Through His resurrection, He proved once and for all that He is Who He claimed to be—God come in the flesh. If He truly is God, then He told us the truth. We are all destined for an eternity in hell unless we accept His free gift of salvation.
Christmas is a season when we give gifts one to another. We take our time and put a lot of thought into picking out exactly the right gift for our loved ones. Don't you think God has done the same for us? He loves us more than any human can love. His gifts are greater than any human can give. His gifts are perfect because He is perfect. His greatest gift to us is the gift of eternal life with Him in Heaven.
But when does a gift actually become ours? If you picked out a special gift for someone this year and go to their home to offer it to them, does it become theirs when you enter the door? No it doesn't. You can stand there all day and hold it in your hands and offer it to them, but until they actually receive it from you and accept it as their own, it never becomes theirs does it? How would you feel, if they never accepted your gift and you had to return home with it. Pretty rotten I'll bet. How do you think God feels when someone rejects the gift of salvation.
Don't go to a Christ-less eternity. Accept God's gift of salvation today and know with 100% certainty that if you were to die today, you'll spend your eternity in Heaven.