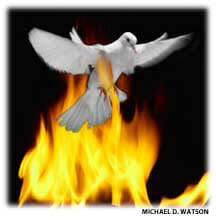 I love LinkedIn. LinkedIn is a social network for professionals. I have well over 10,000 direct contacts on LinkedIn and belong to as many networking groups as possible. I must admit though that I spend more time reading and responding to the questions posed in the three faith-based groups to which I belong than any of the others. Recently, I stumbled across the following question in one of those faith-based groups:
Speaking in tongues the great church divider. Whether it means dialects, heavenly language or it simply doesn't exist any more, why is it such a divider among the family of God?
Before I sat down to write this post today, I checked the responses to this question. There were 402 of them. From what I was able to scan, the responses fall largely into the category of opinion, experience and partial Bible exposition. Not one of the responses that I read pointed anyone to what the Word of God really teaches on the topic.  To ignore the Word of God on this matter is to fall under the admonition found in Proverbs 21:2 (AV), "Every way of a man is right in his own eyes: but the LORD pondereth the hearts."
Now I know that any Bible study on the topic of Speaking in Tongues or any of the sign gifts for that matter is controversial. Those who have had a sign gift experience will hold fast to that experience, often weighing the experience above the authority of God's Word. I will never discount the power of the experience you may have had, but I will challenge you to discern the spirit behind it.
I had a speaking in tongues experience myself when I attended a charismatic church in Newark, NJ. I was in my early twenties and newly saved. (You can read about my salvation experience in A Stitch in Time Saves.) One night during a prayer meeting in the sanctuary, I decided to go forward to receive communion. I had never received communion before nor had I ever studied the catechism. I attended Catholic churches throughout high school because my best friends are Catholic, not for any desire of my own. The truth is that I just wanted to experience communion for myself and try to understand why it means so much to so many.
Well, that night I went forward for communion. As soon as the host touched my tongue, I experienced the supernatural. In my mind and spirit, I started praying in tongues. I felt wide awake and filled with an emotional high I had never before encountered. I couldn't sleep that night and the experience lasted all of about 48 hours before it ceased. I wondered what it was all about and filed it away in my heart as a wonderful experience. But when I started studying God's Word, I began to question the source of my supernatural experience. Was it from God or from some other supernatural source?
Today we are witnessing a growing phenomenon of satanic activity in the realm of the miraculous. Where the Devil does not succeed in taking the Bible from us, he works hard at taking us from the Bible. When he succeeds in getting Christians to focus their attention on some supernatural experience, those seeking after the experience have neither the time nor interest in searching the Scriptures for God's truth. The tool that God has given us to discern the spirits is His Word, not our feelings, emotions or rationale.
Based on the study of God's Word and despite my experience, I absolutely believe that speaking in tongues is not for today. You may hold a different opinion, and that's okay. But if God's Word is our authority for all doctrinal matters, then what it teaches must trump our experience and rationale; and our experiences must be examined in the light of Scripture to discern the spirit behind them.
"All scripture is given by inspiration of God, and is profitable for doctrine, for reproof, for correction, for instruction in righteousness: That the man of God may be perfect, throughly furnished unto all good works."—2 Timothy 3:16–17, (AV)
To begin our study, let's meditate on 1 Corinthians 14:21-25 (AV),
21In the law it is written, With men of other tongues and other lips will I speak unto this people; and yet for all that will they not hear me, saith the Lord.
22Wherefore tongues are for a sign, not to them that believe, but to them that believe not: but prophesying serveth not for them that believe not, but for them which believe.
23If therefore the whole church be come together into one place, and all speak with tongues, and there come in those that are unlearned, or unbelievers, will they not say that ye are mad?
24But if all prophesy, and there come in one that believeth not, or one unlearned, he is convinced of all, he is judged of all:
25And thus are the secrets of his heart made manifest; and so falling down on his face he will worship God, and report that God is in you of a truth.
So there's no confusion over what "prophesying" means in these verses. The word in Greek is "propheteia" which means "a discourse emanating from divine inspiration and declaring the purposes of God, whether by reproving and admonishing the wicked, or comforting the afflicted, or revealing things hidden." In other words, prophesying here means preaching.
As you meditate on these verses, ask yourself two questions:
1. Is prophesying (preaching) for believers…or unbelievers?
2. Are tongues for believers…or unbelievers?
We'll study these questions in depth in Speaking in Tongues—Part 2.