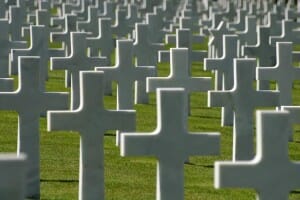 American broadcast journalist Tom Brokaw served as anchor and managing editor of the
NBC Nightly News
from 1982 to 2004. In 1998, he wrote
The Greatest Generation
. He coined this term to describe the generation who grew up in the United States during the deprivation of the Great Depression, and then went on to fight in World War II, as well as those whose productivity within the war's home front made a decisive material contribution to the war effort.
As we celebrate Memorial Day 2011, I can think of no finer tribute to these heroes who fought for our freedom some 70 years ago than the rousing speech delivered by actor Randolph Scott during the last minute and a half of the 1943 movie Gung Ho:
Men, it may seem too soon to talk of the Makim Island raid as finished when we are seven days from home and Jap warships are closing in on us, but I'll take that chance. Raiders, you have shown the way. Whatever anyone may do in the days ahead, this was the first offensive action to be carried out. Our victory however has not been without the loss of men who were like brothers to us.

But what of the future for those of us who remain? Our course is clear! It is for us at this moment, with the memory of the sacrifice of our brothers still fresh, to dedicate again our hearts, our minds and our bodies to the great task that lies ahead. We must go further and dedicate ourselves also to the monumental task of assuring that the peace which follows this holocaust will be a just, equitable and conclusive peace. And beyond that, lies a mission of making certain that the social order which we bequeath to our sons and daughters is truly based on freedom, for which these men died.
The sentiments that applied in 1943 still apply today. May our thoughts and prayers be with our veterans who have defended freedom in every war since and for those men and women who today risk and sacrifice their lives so that our future generations can experience the freedom that God has bestowed upon this great land we call home.