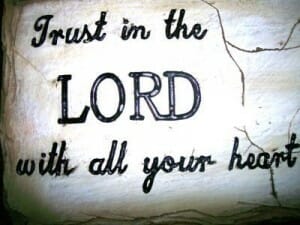 The word "trust" is interesting to me. The 11th edition of the Merriam-Webster Collegiate Dictionary defines trust this way:
1. a : assured reliance on the character, ability, strength, or truth of someone or something
b : one in which confidence is placed
2. a : dependence on something future or contingent : HOPE
I would love to be able to unconditionally trust people, but for the most part, I can't. I've been stabbed in the back or thrown under the bus more times than I can count by people I trusted. Of course, my immediate family doesn't count in this characterization. I categorically trust them. And even when that trust is somehow violated by a minor infraction, we talk things over, forgive one other, grow in grace, and move on. Yet, our families our human. The people we work with are human. The folks we fellowship with are human. Do you know what the Bible says about the human heart? Here's what God inspired the prophet Jeremiah to write:
"The heart is deceitful above all things, and desperately wicked: who can know it?"—Jeremiah 17:9, (AV)
Can we ever place our trust in something so deceitful and desperately wicked? No, we can't. There is One though, in Whom we can place our confidence, especially when it comes to planning our future. We can be totally assured and rely upon His character, ability, strength, and the truthfulness of His Word to guide us through our most difficult circumstances and the trials of life. In fact, again speaking through the prophet Jeremiah, God says,
"For I know the thoughts that I think toward you, saith the LORD, thoughts of peace, and not of evil, to give you an expected end."—Jeremiah 29:11, (AV)
Only God can surely know what goes on in our human hearts. After all, he is our Creator. As humans, we can't even trust ourselves at times, let alone trusting others. We've all had circumstances where we've thought more highly of ourselves than we ought.
The Bible is clear. There is only One who is worthy of our unconditional trust, God Himself, our Lord Jesus Christ.
"Trust in the LORD with all thine heart; and lean not unto thine own understanding. In all thy ways acknowledge him, and he shall direct thy paths."—Proverbs 3:5–6, (AV)
When I lost my job in December of 2009 because of the greatest recession to hit the United States since the Great Depression, I never in my wildest imagination thought that I'd still be unemployed in August of 2011. Yet, here I am, a great employee still seeking to partner with a great employer to experience my next role in life. No matter what the results of the job search, I trust God with all of my heart to bring about the outcome, and my income for that matter. He has never failed me in the past, (though I've failed Him plenty), nor shall He fail me this time around. God is always faithful, God is always good, and I trust Him completely.
To sum this up, I'm going to rely on Job to express my closing thoughts on the matter:
"Though He slay me, yet will I trust in Him: but I will maintain mine own ways before him."—Job 13:15, (AV)