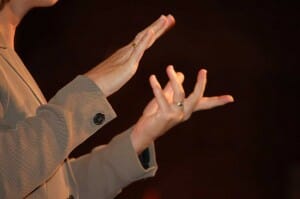 My wife and I enjoy our morning quiet time together with the Lord. With a fresh cup of coffee in hand, we sit and read the Bible, share a devotion from
Kyle Sutton's
book,
Honey Out of the Rock
, and then pray for the matters of the day. In today's
Honey
devotion, titled
Faith, Courage & Loyalty,
, Kyle expounds Luke 1:5-7:
There was in the days of Herod, the king of Judaea, a certain priest named Zacharias, of the course of Abia: and his wife was of the daughters of Aaron, and her name was Elisabeth. And they were both righteous before God, walking in all the commandments and ordinances of the Lord blameless. And they had no child, because that Elisabeth was barren, and they both were now well stricken in years.—Luke 1:5–7
You probably remember the rest of the story. The angel Gabriel visits Zacharias while he is ministering at the altar of incense. Gabriel announces that he and Elisabeth will conceive a child and they are to call the child John [The Baptist]. Because Zacharias questioned Gabriel's announcement, the angel took his voice away for his unbelief.
As we read today's devotion, my wife picked up on an interesting point that had previously escaped me. Luke 1:62 says:
And they made signs to his father, how he would have him called.
Officially naming the child took place at the circumcision ceremony. With friends and family present, those in attendance made signs, or hand signals, to Zacharias to confirm the child's name. This begs the question, why would the guests have to make signs to Zacharias instead of just asking him? The reason is because Zacharias was deaf as well as dumb. Was his deafness the result of his old age or did the angel Gabriel take away his hearing at the same time he removed his voice?
I believe that Gabriel took away Zacharias' hearing and voice. Unbelief led to a profound silence in Zacharias' life, a silence that caused him to retreat inside of himself and examine his own relationship with God. When he confirmed the child's name as John, Zacharias' health was restored. Filled with the Holy Ghost, Zacharias offers up one of the most elegant, prophetic prayers in Scripture:
And thou, child, shalt be called the prophet of the Highest: for thou shalt go before the face of the Lord to prepare his ways; To give knowledge of salvation unto his people by the remission of their sins,—Luke 1:76–77
As Christians, all of us go through periods where our belief and trust in God waiver. When circumstances get difficult and seem impossible, fear often countermands faith. It is during these times, that we, like Zacharias, are spiritually deaf and dumb. We fail to hear the still, small voice of God as He directs us; and praise for Him is far from our lips. But fear not, we are in good company. David said:
But I, as a deaf man, heard not; and I was as a dumb man that openeth not his mouth.—Psalm 38:13
Thankfully, for Christians unbelief is generally a temporary condition, and again as Zacharias, God restores us to full health in due time. But did you know that there is an unbelief that sends a person to hell? In fact, unbelief in God is the only sin that ever sends a person to hell. Eternal life with God, or salvation as it's called, can only be obtained by believing in the finished work of Christ on the cross. Salvation is not about religious practices, rites, rituals, or good works. It is about our belief in Christ alone.
That if thou shalt confess with thy mouth the Lord Jesus, and shalt believe in thine heart that God hath raised him from the dead, thou shalt be saved. For with the heart man believeth unto righteousness; and with the mouth confession is made unto salvation.—Romans 10:9–10
Based on this verse, if belief saves a person, then logically unbelief leaves a person unsaved. Saved means an eternity in Heaven. Unsaved means an eternity in hell. It's your choice to belief or not.