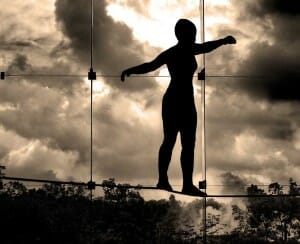 The classic Biblical definition of "Faith" is found in Hebrews 11:1–3, which says, "Now faith is the substance of things hoped for, the evidence of things not seen. For by it the elders obtained a good report. Through faith we understand that the worlds were framed by the word of God, so that things which are seen were not made of things which do appear."
Faith
In the context of this article, the word "faith" as defined in Merriam-Webster's Collegiate Dictionary (Eleventh Edition) could mean one of the following:
Belief and trust in and loyalty to God
Belief in the traditional doctrines of a religion
Firm belief in something for which there is no proof
Complete trust
For me, faith is a combination of the 1st and 4th definitions. I belief in, have complete trust and loyalty to God our creator—our Lord Jesus Christ. As for the 3rd definition, believing in something (God) for which there is no proof, the Bible says something different. There is proof!
The heavens declare the glory of God; and the firmament sheweth his handywork.—Psalm 19:1
The Bible, in its entirety, is proof of God, but many don't agree that the Bible is the true, living Word of God. Based on Psalm 19:1 alone, if you just look around at the creation, you can see God's handiwork in its majesty!
I also don't accept the 2nd definition, belief in the traditional doctrines of a religion. A religion is a personal set or institutionalized system of attitudes, beliefs, and practices. It is rituals and rites that may or may not eventually lead someone to a personal relationship with God. I have a personal relationship with our Lord and Savior Jesus Christ that began when I accepted Romans 10:9-10 as truth.
That if thou shalt confess with thy mouth the Lord Jesus, and shalt believe in thine heart that God hath raised him from the dead, thou shalt be saved. For with the heart man believeth unto righteousness; and with the mouth confession is made unto salvation.
Notice that there's no mention of religion in this verse. Salvation is a result of our belief, not the product of any good that we've done. Jesus is the object of our faith, and the Bible drives our practices and beliefs. True Bible-believing Christianity is a relationship with the Living God. It is not a religion.
Doubt
When you heard the question, "What is the opposite of faith?," Your first thought may well have been "The opposite of faith is doubt." Many people believe this. For sure, there is a type of doubt that is so completely negative it will jeopardize an individual's faith. But there is also a more common type of doubt known as Socratic Doubt that causes people to question aspects of their faith. Socrates taught that belief in anything beyond a shadow of a doubt can be dangerous, and that clinging to what we thought we knew can trap us and keep us from truly knowing anything. He advocated questioning our beliefs until we could be sure of the truth.
Questioning our beliefs can be healthy and serve to strengthen our faith as we seek God's will in our life and pursue a personal relationship with Him. Consider Mark 9:23–24:
Jesus said unto him, If thou canst believe, all things are possible to him that believeth. And straightway the father of the child cried out, and said with tears, Lord, I believe; help thou mine unbelief.
The father in this story expressed his faith in the Lord and his doubt at the same time. At times, even the most faithful will struggle with their faith, but it doesn't mean that they've lost it or never had it in the first place.
Certainty
Recently, I had the privilege of attending a luncheon with the North Carolina Executive Roundtable. The guest speaker was Sandy Costa, former President and Chief Operating Officer of Quintiles Transnational Corporation. His topic was The 4 Strategies Of Building Trust (In A World Where It's Rapidly Disappearing). In one of his points, he said he believed the opposite of faith is certainty. After all, if we knew everything that was going to happen, we wouldn't need faith at all.
It certainly requires no faith to know that we'll all die someday and that each passing day brings us closer to that often feared event. It also takes no faith to know that our tax burdens are getting heavier and heavier and that there is no legal way for us to escape them. True faith, however, breeds certainty in a Savior who loves us unconditionally and welcomes us into His presence with open arms. Consider Hebrews 4:16:
Let us therefore come boldly unto the throne of grace, that we may obtain mercy, and find grace to help in time of need.
Faith gives us the certainty that God welcomes our prayers, and that His mercy and grace are ever present in our time of need.
Reason
For those who think faith is an irrational belief without any supporting evidence, the opposite of faith is reason. The ancient Greek philosophies were largely based on reason. The Apostle Paul encountered this form of opposition from the Epicureans and Stoics.
Then certain philosophers of the Epicureans, and of the Stoicks, encountered him. And some said, What will this babbler say? other some, He seemeth to be a setter forth of strange gods: because he preached unto them Jesus, and the resurrection.
Today, there are no Epicureans and Stoics of whom I am aware, there are however, Atheists and Humanists who value reason over Biblical faith. Yet, in their belief system, they are still exercising the 3rd definition of faith, they have a firm belief in something for which there is no proof. Whether they think it highly unlikely that God exists, or whether they just have not been presented with proof they consider sufficient, they are doing the same thing as Christians. They are adopting a belief without certain proof. They are exercising faith.
Fear
Fear is the last opposite of faith we'll discuss. Take a look at Mark 4:35-41:
And the same day, when the even was come, he saith unto them, Let us pass over unto the other side. And when they had sent away the multitude, they took him even as he was in the ship. And there were also with him other little ships. And there arose a great storm of wind, and the waves beat into the ship, so that it was now full. And he was in the hinder part of the ship, asleep on a pillow: and they awake him, and say unto him, Master, carest thou not that we perish? And he arose, and rebuked the wind, and said unto the sea, Peace, be still. And the wind ceased, and there was a great calm. And he said unto them, Why are ye so fearful? how is it that ye have no faith? And they feared exceedingly, and said one to another, What manner of man is this, that even the wind and the sea obey him?
In this passage of Scripture, Christ clearly equates fear with a lack of faith. Faith then is courage and fear is cowardice! There is a lot of fear around us today. I don't know too many Christians who don't fear something, unemployment, sickness, death, taxes, not being politically correct, not being accepted by other people or whatever. Fear stunts our growth and renders us ineffective for Christ. Fear is never from God. 2 Timothy 1:7 says:
For God hath not given us the spirit of fear; but of power, and of love, and of a sound mind.
Overcome the oppositions to your faith today. Pray for courage and increased faith, and turn away from the things that render you ineffective for God.