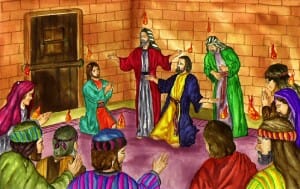 "Charity never faileth: but whether there be prophecies, they shall fail; whether there be tongues, they shall cease; whether there be knowledge, it shall vanish away. For we know in part, and we prophesy in part. But when that which is perfect is come, then that which is in part shall be done away. When I was a child, I spake as a child, I understood as a child, I thought as a child: but when I became a man, I put away childish things. For now we see through a glass, darkly; but then face to face: now I know in part; but then shall I know even as also I am known."—1 Corinthians 13:8–12, (AV)
There's no doubt that the sign gift of tongues was important to the early church. But I can't think of an issue that creates more contention amongst believers than the discussion of whether or not tongues is a gift for today's church. Those of you who have had an experience with tongues believe it is for today. Those who have been brought up in a fundamentalist background know its not for today. But we all can't be right and truthfully, there's no sense arguing over it.
As human beings we often let our experiences trump God's Word. Experiences can be extremely powerful motivators. But God's Word is supposed to be our ultimate authority, isn't it? If not, then we are believing something that isn't true no matter how real it is.  We are believing what 2 Thessalonians 2:9, (AV) calls "signs and lying wonders." "Even him, whose coming is after the working of Satan with all power and signs and lying wonders,"
Our decision to believe that tongues are for today or not hinges upon our understanding of one single verse of Scripture. That's 1 Corinthians 13:10, "But when that which is perfect is come, then that which is in part shall be done away." Specifically, our decision hinges on the first part of that verse, "But when that which is perfect is come…" What is "that which is perfect?" It all boils down to what we believe the "that which is perfect" actually is.
Some believe "that which is perfect" is Jesus Christ Himself at His second coming. There are some problems with this. The word translated from the Greek as perfect is "teleion." Teleion is an adjective that means" brought to its end, finished." or "wanting nothing necessary to completeness." The entire phrase translated "that which is perfect" is "To Teleion." "To" (that which) is an definite article of neutral gender. This does not describe Jesus Christ, nor is Christ ever referred to in the Bible with the name "Perfect" even though we know He is.
"That which is perfect" cannot refer to the Holy Spirit either. When 1 Corinthians was written, the Holy Spirit had already entered the picture. The only safe conclusion that we can come to is that "that which is perfect" refers to something of neutral gender that is not yet complete but is anticipated by Paul to be completed in the indefinite future. What could that be?
I believe "that which is perfect" refers to the completed canon of Scripture. The Holy Bible. Here is why I believe this:
The early church had special needs
2. They did not have a complete New Testament
3. They needed authentication of these revelations by miracles and signs.


How shall we escape, if we neglect so great salvation; which at the first began to be spoken by the Lord, and was confirmed unto us by them that heard him; God also bearing them witness, both with signs and wonders, and with divers miracles, and gifts of the Holy Ghost, according to his own will?—Hebrews 2:3–4, (AV)

4. The New Testament was finally completed and is the "living and powerful" word of God.
"For the word of God is quick, and powerful, and sharper than any twoedged sword, piercing even to the dividing asunder of soul and spirit, and of the joints and marrow, and is a discerner of the thoughts and intents of the heart."—Hebrews 4:12, (AV)
The gift of tongues was used only in the transitional period between Law and Grace and that the sign gifts continued through the time of the Apostles while the New Testament was in the process of being written and completed. So if this all true, what are people experiencing today? What is the source of the experiences often accompanied by feelings of euphoria and spiritual highs? Why are people not turning to God's Word to understand the truth? Why are people allowing experience and emotion to trump the authority of God's Word?
It all comes back to 2 Thessalonians 2:9, Even him, whose coming is after the working of Satan with all power and signs and lying wonders, …. As I stated in Speaking in Tongues—Part 1, we are witnessing a growing phenomenon of satanic activity in the realm of the miraculous. Where the Devil does not succeed in taking the Bible from us, he works hard at taking us from the Bible. Sadly, when he succeeds in getting Christians to focus their attention on some supernatural experience, those seeking after the experience have neither the time nor interest in searching the Scriptures for God's truth.
I do believe God is still in the miracle business today. But as for the sign gifts, the Bible speaks for itself, For the Jews require a sign, and the Greeks seek after wisdom:—1 Corinthians 1:22, (AV). "Greeks" here means gentiles.
And when speaking to the Pharisees and Sadducees, Jesus said, "A wicked and adulterous generation seeketh after a sign; and there shall no sign be given unto it, but the sign of the prophet Jonas. And he left them, and departed."—Matthew 16:4, (AV)
So if you fall into the camp that believes experience and euphoria trump God's Word, won't you please seek God's wisdom from His Word instead? I've known many great men of God, great soul winners who have led hundreds, maybe thousands to the Lord. Not one of them ever spoke in tongues.