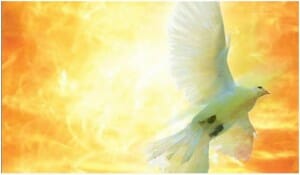 In our previous lessons we've learned the Bible teaches that speaking in tongues:
Is for Jewish unbelievers
Is always acknowledged as a known human language when documented in Scripture
Is used as a missionary or evangelistic tool
Confirms the message of the Gospel
Today, we are going to evaluate what the Bible teaches is the proper use of tongues in church worship practices. First, tongues are not a prayer language. Look at Romans 8:26-27:
"Likewise the Spirit also helpeth our infirmities: for we know not what we should pray for as we ought: but the Spirit itself maketh intercession for us with groanings which cannot be uttered. And he that searcheth the hearts knoweth what is the mind of the Spirit, because he maketh intercession for the saints according to the will of God."
Human beings are inherently weak spiritually. Now there's nothing wrong with asking God for things or for His blessing on people, but the most overused word in our prayer lives is the word "bless." But even Paul had difficulty at times knowing the right things to pray for, "for we know not what we should pray for as we ought." It's during times like these that the Holy Spirit, the great Comforter, makes "for us with groanings which cannot be uttered."
What does this mean? If something cannot be uttered, is it audible to those around us? Of course not! When the Holy Spirit inspires us with "groanings which cannot be uttered," they are conscious, deep and intense yearnings moving us and teaching us to pray. We may still not be able to put our requests of God into a definite form, or even express them in words; but we know that God knows the meaning of what His own Spirit has inspired (V.27). Even apart from the faith and inspiration of the Gospel, the internal consciousness of our souls, with their yearnings after something as yet unseen, is one of the most cogent evidences of a life to come. Hebrews 11:1, Now faith is the substance of things hoped for, the evidence of things not seen.
A more serious problem arises in the understanding of the 21 references to tongues in 1 Corinthians chapters 12-14. There are those who insist that the tongues in 1 Corinthians are ecstatic utterances not known in any country on earth. They base their conclusion on the term "unknown" which appears in 1 Corinthians 14:2, 4, 13, 14, 19, and 27. But the student of God's Word must not fail to observe that the word "unknown" is italicized in every place where it appears. This means that it does not occur in any Greek manuscript but was inserted by the translators. Translations are not inspired. Only the original autographs as dictated to men by the Holy Spirit are inspired. The Holy Spirit did not inspire Paul to write that the tongue is unknown. All the usages of tongues in Paul's treatment of the subject refer to foreign languages. "So likewise ye, except ye utter by the tongue words easy to be understood, how shall it be known what is spoken? for ye shall speak into air" (1 Corinthians 14:9)
Let's keep something in mind about the Corinthian church, it was one messed up body of believers. Paul's letters to them were to instruct them in proper Christian conduct and behavior. When tongues were used in the church, Paul establishes rules in 1 Corinthians 14:27-28 for their orderly use:
"If any man speak in an unknown tongue, let it be by two, or at the most by three, and thatby course; and let one interpret. But if there be no interpreter, let him keep silence in the church; and let him speak to himself, and to God. "—1 Corinthians 14:27–28, (AV)
When used in the church, at the very most only three people were permitted to speak in tongues. They needed to speak in turn and not all at the same time; and one of them must be an interpreter to translate what was being said to the entire congregation. If there was no interpreter present, tongues were not permitted. Is that the way tongues are being used in churches today? Are today's churches following this Scriptural precept? Based on your experience, if you answered "no" to either of these questions, the use of tongues is unscriptural. That church is not following God's Word regardless of how wonderful or emotional the experience.
There is never any reason for anyone to speak except to converse intelligibly. The term that is used to identify tongues in the Bible is "glossolalia," made up of two Greek words, glossa (language or tongue) and lalia (speech). The Greek word laleo means "I speak." The word is never used for mere sound or noise. Nor is it used for the mumbling or muttering of unintelligible gibberish. The tongues-speaking in the New Testament was in the native languages of the people hearing them. The supernatural phenomenon which took place at Pentecost was the exercise of a gift whereby many people from many countries, gathered at Jerusalem, heard God's message in their own language. This was indeed a miracle of God.
It's an arbitrary and strange interpretation of Scripture that makes tongues-speaking in the New Testament anything other than known human languages. There is no trace of Scriptural evidence that tongues were ever heard by anyone as incoherent, incomprehensible babbling.
We'll conclude our Bible study on Speaking in Tongues in our next lesson.